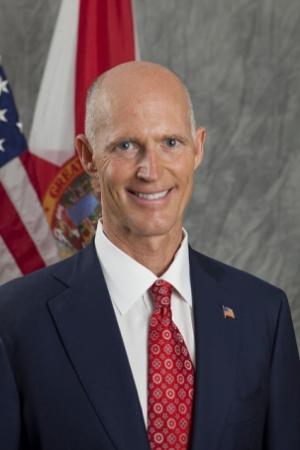 Florida Gov. Rick Scott (R) Tuesday issued an
executive order
Tuesday requiring that current state employees submit to random drug tests and that applicants for state jobs undergo pre-hiring drug tests. The order will go into effect in 60 days for current employees and immediately for new hires, but it certain to be challenged in court.
The executive order came as the state legislature grapples with a bill that would require people who apply for state welfare benefits to submit to a drug test -- and pay for it themselves -- before receiving them. That bill,
Senate Bill 556
, is supported by Gov. Scott and passed the Senate Criminal Justice Committee Tuesday.
"Floridians deserve to know that those in public service, whose salaries are paid with taxpayer dollars, are part of a drug-free workplace," Scott said. "Just as it is appropriate to screen those seeking taxpayer assistance, it is also appropriate to screen government employees."
The bill applies only to workers in executive agencies that answer to the governor. Legislators and their staffs would be exempt.
State law already allows for, but does not require, pre-employment drug testing of applicants for jobs at state agencies under the Florida Drug-Free Workplace Act. But the random drug testing of both state employees and welfare recipients is likely to run up against the US Constitution.
Federal courts have generally found that random testing of government workers who aren't in jobs that affect public safety amounts to a "search" by the government. Such searches must be "reasonable," generally, and some courts have interpreted such requirements of ordinary government workers as a violation of the US Constitution's Fourth Amendment right against unreasonable searches. A Michigan law requiring drug testing of welfare recipients was thrown out by the federal courts in 2003.
The ACLU of Florida attacked Scott's order, saying that a federal court had in 2004 already ruled that the state was violating the Fourth Amendment when the Department of Juvenile Justice instituted a random drug testing program. In that case, a US district judge ordered the agency to halt random drug testing and pay the worker who sued $150,000.
"I'm not sure why Gov. Scott does not know that the policy he recreated by executive order today has already been declared unconstitutional," ACLU of Florida Executive Director Howard Simon said in a statement. "The state of Florida cannot force people to surrender their constitutional rights in order to work for the state. Absent any evidence of illegal drug use, or assigned a safety-sensitive job, people have a right to be left alone."
While Gov. Scott is coming off as a hard-liner when it comes to drug testing poor people and state workers, he has also zeroed out the state drug czar's office and blocked the state from beginning a prescription drug tracking plan. But then, as the saying goes, consistency is the hobgoblin of small minds.